mHelpDesk
¿Qué es mHelpDesk?
mHelpDesk es una solución de software poderosa y fácil de usar para tu negocio de servicios externos, ya que automatiza todo, desde el primer contacto con el cliente hasta la recepción del pago. Los
Leer más
clientes obtienen herramientas online y para dispositivos móviles que no tienen parangón en rendimiento, fiabilidad y funcionalidad. Esta solución reúne las mejores herramientas en un paquete sumamente fácil de usar y asequible que no requiere una gran inversión inicial. Además, te ofrece expertos internos en los productos para que puedas comenzar a trabajar de inmediato.
Mostrar menos
¿Quién usa mHelpDesk?
mHelpDesk es perfecto para empresas pequeñas y medianas, tanto establecidas como en crecimiento, que necesitan una mejor organización, acceso móvil y procesos de facturación y programación más eficientes.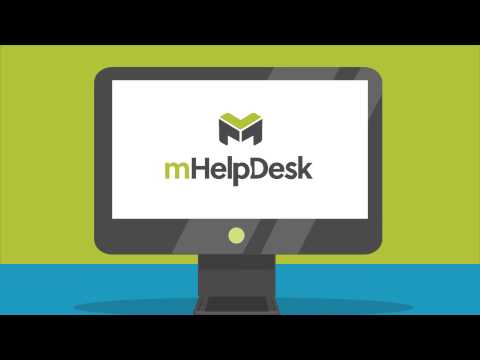 ¿No estás seguro sobre mHelpDesk? Compara con una alternativa popular
Versión gratuita
Prueba gratuita
Versión gratuita
Prueba gratuita
¿Por qué estoy viendo esto?
Desiree
Virtual Assitant en Filipinas
Propiedad inmobiliaria, 2-10 empleados
Ha utilizado el software durante: Prueba gratis
mHelpDesk Review
Puntos a favor:
The software is easy to use. Good application to use.
Contras:
I have nothing to complain about except for the price which is a bit pricey.
Tecnología y servicios de la información, 2-10 empleados
Ha utilizado el software durante: Más de dos años
Alternativas consideradas:
Field Service Software for any Business to Stay Organized
Comentarios: Overall I have had a really good experience, anytime I have ran into a problem which is not very often but my problems have been resolved in a professional and expediential matter that allowed my business to continue to operate. You can keep an open line of communication with your customers on work order status or any problems that arise during the work order.
Puntos a favor:
You are able to automate your business to keep a customer database, schedule and track work orders. Billing is a breeze with in the email feature you send to your customers. They can pay directly with PayPal or Credit Card account. There is even a feature to generate leads to your business. You can customize your invoices and work orders to meet your business needs. Works on mobile Apps and integrates all your invoices to quick books.
Contras:
When customers pay from your credit card account, you are only able to setup and activate one payment option at a time. It would be nice to have individual bank accounts set for different sections of your business model.
Christopher
Operations Manager en EE. UU.
Dispositivos médicos, 2-10 empleados
Ha utilizado el software durante: Más de dos años
Fuente: SoftwareAdvice
Great Field Service CRM Foundation
Puntos a favor:
Mhelpdesk Field Service software greatly improved our business workflow by transforming our carbon copy work order system to a fully digital system that helped reduce our turn around time for billing. Recently, I was able to work with a mhelpdesk staff member during the development of the newly designed Equipment page where they were implementing the new features to track when equipment next service due dates are. This was a huge improvement for our business as we track mandatory inspection dates for our customers.. The customer support has always been A+ when it comes to address issues, or questions, especially with the instant chat function from the web app.
Contras:
- Mobile App: The mobile app is an area that could see improvement. Some of the workflow using the app when creating a new Service Request can be glitchy and difficult to input all the information. The list of service requests also does not always update correctly and this is something we are currently in the process of working with the support team on. - Inventory: The inventory management section is severely lacking and is not truly useable for our business workflow. With no ability to enter Purchase Orders/Vendor Information/RMA and tracking when inventory is received without manually adjusting the #'s on the price list, it becomes extremely vulnerable to missed information and inaccurate #'s leading us to use an alternative program to track inventory. This has been one of the hardest work around areas for our company as we are always constantly ordering replacement parts for equipment that we do not normally carry in stock. - Price List: Another area regarding the price list for our company is that our labor rates are negotiated individually causing us to have to create a line item on the price list for every single Customer Hourly Rate, Mileage Rate, and Travel Time rate so that our engineers are able to bill customers correctly. It would be much easier if when creating a customer, you were able to designate their hourly rates so that information would automatically apply when engineers are entering their labor times.
Luke
Office Manager/Project Coordinator en EE. UU.
Construcción, 11-50 empleados
Ha utilizado el software durante: Más de dos años
Overall Pretty Great!
Comentarios: Overall I would recommend this to most people in search of a CRM. There are a lot out there, but I cannot imagine the customer service is as good.
Puntos a favor:
First, The customer service is Great! Especially the rep who helped me out tremendously. The live chat feature is probably the best in the business in terms of helpful information and response time. Aside from that the software works really well. We are not totally utilizing every feature and it works really well for our company! - The overall layout and ease of use is great - Very easy to create leads - Easy to convert lead to a job - Easy to create job tickets IF you enter the correct information into the ticket on the first try - Easy to schedule - Can even sync it to Google Calendar - The main screen is plain and easy to use - Moving from tab to tab is simple and straight forward - Running reports is easy and great - Items to service might be useful for keeping track of maintenance items on out company fleet - May even be useful if we have a better service tech, if we start doing more service items - We can inventory items as well. - I would like to explore options that you may know of regarding this and tool tracking inventory - The customer service live chat on this CRM is great - The mobile app is great for our guys in the field to use - Straight forward pretty simple - Push notifications work great - Simple and easy to contact customer - Easy to use maps that integrate with the phones maps software - There is are a lot of areas where you can customize the fields of input
Contras:
- If you don't input the information of the ticket correctly the first time, it makes it extremely difficult to change it after. - You cannot look up tickets by their address on the mobile app (At least not easily if there is a way). - When having a recurring lead there is no drop down to select the customer, you have to enter the customers name EXACTLY the same as it was entered the first time
Respuesta de mHelpDesk
hace 3 años
Luke, thanks for the detailed review! We're very glad to hear that you are taking advantage of so many features of the app. Please let our team know if there is anything else we can do to help. Thank you for your business!
Construcción, 2-10 empleados
Ha utilizado el software durante: Más de un año
Great if You Have to Make Invoices in the Field
Comentarios: GOOD.
mHelpDesk does what I need it to do. It is affordable for a small shop. It's the only software that allowed my, not-so-computer-literal, technicians to create detailed invoices in the field AND HAND IT TO THE CUSTOMER, and record payment.
I would recommend it.
Most of my frustrations come from having such a very functional software package and my techs have to fill out paper timesheets. All the data needed to create a timesheet exists in the Price List including Items or fields called Labor-Travel, Labor-Tech or Labor-Apprentice. The time they signed in and signed out exists in the items list of the invoice. All we need is a report that can filter this data and voila we have timesheets.
Puntos a favor:
Support is very good. Works great if you make many invoices in the field, print them and hand them to customers. Must have internet signal. Email Invoice with Payment Button. Customer clicks the button and pays with credit card. Easily convert Estimates to Service Call to Invoice. Customer Info with multiple jobsites easily managable. Great mobile app., fluid, very functional, easy to use. Intuitive desktop platform. Works great with QuickBooks Desktop.
Contras:
You will have to pay to retrive YOUR DATA when you leave mHelpDesk. No inventory. Don't let them fool you. You cannot create PO's and have to go to a price list, select and item, delete the quantity, and enter the new quantity everytime you want to add inventory. No inventory history. No Time sheets. Again, don't let them fool you. Technicians can sign in in the morning and sign out in the afternoon and you can print a report. That's it. No phase codes. Cannot label time entries. No way to associate payroll to billable hours/ServiceCalls/Jobs. Custom Reports? Never could create one that was usefull and I have 20 yrs experience in MS Access.
Respuesta de mHelpDesk
hace 4 años
Tim--thank you so much for this detailed and very helpful feedback! We will share it with the product team so they can explore some of the ideas that you've raised.