¿Qué es NueMD?
NueMD es un sistema de facturación médica basado en la nube y fácil de usar que acorta el ciclo de reembolsos y aumenta la eficiencia en las prácticas. Ofrece un mejor servicio a tus clientes mediante los informes detallados de NueMD sobre tendencias de ingresos, morosidad de cobros y estados de pagos. Con una base de clientes establecida de más de 24 000 usuarios en 50 estados, NueMD es una opción segura para la facturación médica.
¿Quién usa NueMD?
NueMD brinda servicios a médicos, profesionales de la salud mental, profesionales de facturación médica y centros de salud estudiantiles en Estados Unidos.
¿Dónde se puede implementar NueMD?
Cloud, SaaS, Web, Mac (desktop), Windows (desktop), Linux (desktop), Android (móvil), iPhone (móvil), iPad (móvil)
Sobre el proveedor
AdvancedMD
Ubicado en South Jordan, EE. UU.
Fundada en 1993
Asistencia telefónica
Asistencia 24/7
Chat
Países disponibles
Estados Unidos
Sobre el proveedor
AdvancedMD
Ubicado en South Jordan, EE. UU.
Fundada en 1993
Asistencia telefónica
Asistencia 24/7
Chat
Países disponibles
Estados Unidos
Imágenes y vídeos de NueMD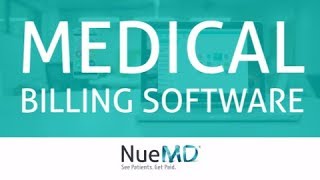 Comparar el precio de NueMD con productos similares
Funciones de NueMD
Admisión de pacientes
Asesoramiento de remesas
Asistencia de codificación
Citas recurrentes
Con certificación ONC-ATCB
Confirmación y recordatorios
Conforme con HIPAA
Conformidad con el sector sanitario
Creación de diagramas
Entrada de códigos y cargos
Facturación
Facturación médica
Filtro de reclamaciones
Gestión de citas
Gestión de clínicas
Gestión de docentes y personal escolar
Gestión de expedientes de pacientes
Gestión de inventarios
Gestión de médicos
Gestión de planes de cuidado
Gestión de reclamaciones
Gestión de seguros
Herramientas de evaluación de resultados
Historia clínica electrónica/informatizada
Historial de facturas
Notas SOAP
Planificación del tratamiento
Portal de autoservicio
Portal de los pacientes
Programación de citas
Programación de médicos
Programación de pacientes
Recetas electrónicas
Seguimiento de la conformidad
Seguimiento del avance
Varios médicos
Verificación de elegibilidad para el seguro
Usuario verificado
Usuario de Linkedin verificado
Práctica médica
Ha utilizado el software durante: No especificado
Fuente: GetApp
Fast set up and implementation
Comentarios: Just like everyone else I was very skeptical with choosing a billing software. I feel that it is an important decision especially for a growing clinic. I choose NueMd because of its ease of use and training available. They help you to set up your business information as well as answer questions along the way. There is always someone available to help in the chat or they are very prompt to return your phone call.
Puntos a favor:
Training, multiple users, access anywhere with an Internet connection, fast set up and implementation.
Contras:
Learning a new software.
alicia
Billing Clerk en EE. UU.
Usuario de Linkedin verificado
Práctica médica, 51-200 empleados
Ha utilizado el software durante: Más de un año
Ease of NueMD
Comentarios: I am a non college graduate that has no issues using this product. It is very easy to understand and effortless to use. i would recommend this to any office.
Puntos a favor:
NueMD is made for ease of use. I feel the color coding for different types of transactions makes it easier to visually determine what action may be needed next. Such as; insurance updates, payments received, or is the patient ready to be scheduled. I also feel the speed buttons make it faster to negotiate around the patient file; such as: am i updating insurance info, or do i need to add an a service to what was received, or do i need to add a memo.
Contras:
They only thing i find for this product that i don't like about this product is in the financials. If you see a patient many times over the years the financial page can get very long. If there was a feature that once the ticket is closed it can be downsized or fan or cascade close. Giving you the option to review later or skip over intirely.
Carla
Business Director en EE. UU.
Práctica médica, 2-10 empleados
Ha utilizado el software durante: 6-12 meses
Fuente: SoftwareAdvice
Not intuitive - NOT designed for Medical Doctors
Comentarios: Make a list of the basic task the doctor does to complete a chart. Then ask them to show you how they perform that task. Don't be like me and take for granted that a doctor can pull up a med, and see the mg dosing, or use a simple auto correct, or upload and save a form without waiting so long it delays your intake. Perhaps choose another software that is actually designed for medical doctors.
Puntos a favor:
Looks professional and has nice colors. It has caused us to become creative and design our own "work arounds", which are costly to our practice but necessary to use this software.
Contras:
The software freezes constantly requiring to reload it. The pharmacy meds are listed by full name, then NDC, then mg. They list a multitude of NDC numbers that the doc has to "choose" in order to auto fill. Cannot see the mg of med because the window is so small, requiring the doc to scroll down and across to find the right med. What doctor will know the NDC no. the pharmacist will use? A mystery! Doing the shortcuts for common meds is very time consuming since a lot of meds are prescribed and you must input those individually and for each doctor separately. The software will not allow more that 10mb to be uploaded into a chart at a time, and each page takes 10 seconds to save, blocking the use of the software until the save is completed. To upload a 25 pg medical chart scanned to the patient's record requires you to separate it into 5 pages each, wait for the minute to upload before you can move on to the next batch. More than 5 minutes to compete the process before you can use the software. A killer for an office that needs to upload various forms we complete for patients. A CD with 160mb to upload? Impossible. They don't have the common auto correct for medical terminology that other softwares use, requiring time consuming corrections by hand. Any fixes take months and you have to hound the support team to do them. They have to send the requests to a tech committee to review it. They never respond to your request, especially when they cannot or will not do the fix. Now that they are merging with AdvancedMD, they won't consider a fix unless it is urgent. Wait! Our fixes were requested long before the merger, over 6 months ago! And the one task we were promised to be fulfilled within three weeks of our purchasing the product (and as a condition of purchase) is still not done, and it has been over 6 months in the waiting. You cannot see more than one page on the screen so you can review an area while writing the chart. Sadly the staff are unaware of how a busy medical practice is run, or perhaps their hands are tied because the software falls very short of being useful for a medical practice. Not a good match for busy doctors. Many more issues, but I've run out of space.
Ha utilizado el software durante: No especificado
Would highly recommend NueMD for your Practice Management. A++++++++++++++
Comentarios: I am the Office Manager here at a pediatrics office and I absolutely love this software. The majority of my time consists of the patient billing: entering of charges, posting of payments and printing of reports. Each of these are very simple to easy to use. My ONLY complaint is that searching for a diagnosis code, then inserting into the claim is a bit cumbersome. Still haven't mastered it yet, and have been here a year. Posting claims, correcting claims, posting payments and sending statements are all a breeze. Entering of patient demographics is easy to maneuver. The patient insurance screen is so simple. I have used a number of medical software programs, and the insurance screens are by far the easiest with NueMD. As a manager, I have to print many reports both daily and monthly. The ease of printing a variety of reports with NueMD has made my job easier as well. In addition, as the key administrator for NueMD in our office, my responsibility includes the addition of new employees. Such a simple process. Likewise, adding new insurance companies is a breeze. In regards to customer service, I feel very fortunate to have the availability to email Dotty at NueMD whenever I have questions. She ROCKS!!! It is very reassuring to know that I typically will receive a very timely reply. There has been a few questions that have taken quite a long time get resolved, but these involved technical support. I am quite certain that every situation can not be resolved immediately. Additionally, we seem to have "NueMD slow" times through out the day, and that can be quite annoying, although I am unsure how the connectivity to the "the Cloud" affects NueMD? In closing, I would highly recommend NueMD. Best Practice Management software ever!!!
Respuesta de NueMD
hace 8 años
Hey Tami, thanks so much for the review! It's great to know that you appreciate Dotty as much as us here at NueMD!
Ha utilizado el software durante: No especificado
A Medical Software I would highly recommend
Comentarios: I am no computer guru, nor do I aspire to be. That is actually the beauty of NueMD. With the technology constantly changing and updates in the medical industry constantly being made, this is the perfect software in which you don't have to worry about keeping up with those changes. I had to do re-search for a new software program for our surgical assist practice. We wanted something internet based that we did not have to worry about system updates and backup's in addition to the ease of use from anywhere. My concerns were getting our providers set up with the electronic claims submissions in a timely manner so when we moved from one system into the next it would be as seamless as possible. Cost was also a factor. The initial set up fee and monthly fee was in line with it's competitors and sometimes on the lower end. The staff at NueMD helped this set-up process to be fast and manageable. Everything that we needed for our practice was something that we had option of use. Initially we sent out all of our patient statements but realized it was just too time consuming and not cost effective. We were able to adjust our account at a later date to subscribe to this service which was a financially sound decision. I also worried that being internet based that this could be an issue with constant conectivity. There have been very few times that the system has been down in the years that we have been a client and it was back up typically within the hours. I have found this software to be a great asset to our practice. I would highly recommend it to any medical practice that is looking for great quality, great price, ease of use and ample resource options with regards to questions and concerns.
Respuesta de NueMD
hace 8 años
Thanks for the review Kari! We love also the manageability of our cloud based software!