¿Qué es Visual Components?
Visual Components offers a complete toolkit from manufacturing planning to industrial automation with a powerful and easy-to-use 3D simulation software. With over 20 years in business, Visual Components is one of the pioneers of the 3D manufacturing simulation industry. Visual Components started with a humble goal – to make manufacturing design and simulation technology easy to use and accessible to manufacturing organizations of all sizes and has retained the same philosophy in their product.
¿Quién usa Visual Components?
Designed for manufacturers, machine or robot builders, and system integrators, it helps view material textures, configure layouts, and analyze collisions while designing visual components.
¿Dónde se puede implementar Visual Components?
Windows (desktop), Android (móvil), iPhone (móvil)
Sobre el proveedor
Visual Components
Fundada en 1999
Países disponibles
Finlandia
Idiomas
Sin información del proveedor
Sobre el proveedor
Visual Components
Fundada en 1999
Países disponibles
Finlandia
Idiomas
Sin información del proveedor
Imágenes y vídeos de Visual Components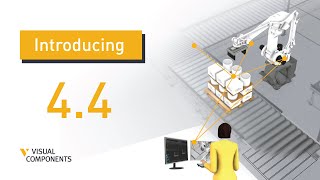 Comparar el precio de Visual Components con productos similares
Funciones de Visual Components
Creación de informes/análisis
Herramientas de presentación
Imágenes en 3D
Manipulación directa
Modelado basado en agentes
Modelado de eventos discretos
Modelado dinámico
Modelado estocástico
Modelado matemático
Presentación gráfica de datos
Alternativas a Visual Components
Opinones de Visual Components
Tim
Robotics Engineer en Alemania
Logística y cadena de suministro, 201-500 empleados
Ha utilizado el software durante: 6-12 meses
Alternativas consideradas:
Overall a great software product!
Comentarios: The support was great!
Puntos a favor:
I love how smooth even the largest plant simulations run.
Contras:
Unfortunatly for simulations only the software was a little too expensive for long term use in our company.
Andreas
Technical sales support en Suecia
Automatización industrial, 201-500 empleados
Ha utilizado el software durante: Más de dos años
Versatile simulation software with unsurpassed CAD data support
Comentarios: The software helps me to quickly extract different components and create a preliminary layout. It wasn't until recently I really understood the importance of defining the components. If you put in the extra time to create frames in the right places of the component then the software will do a lot of the grunt work for you, and there are great tools for snapping and aligning that speeds up the process. Creating custom components has become increasingly easier the last couple of years and the programming of the components is really visual and hands on. I think one pretty unique thing that separates Visual Components from other simulation software is that it's being used in such a wide variety of applications, and even though some scenarios don't exist "out of the box" they're usually possible to script thanks to the API.
Puntos a favor:
You can throw basically any CAD model into the software and it will handle it with ease. The CAD data simplification tools are easy to use and can drastically increase simulation performance. Being able to present layouts and simulations in 3D PDFs, high quality renderings or lightweight animation format makes it easy to distribute content to anyone.
Contras:
One could wish that the user interface would become a bit more responsive. I usually experience a slight latency when switching between tabs and that can get a bit frustrating when a certain task requires a lot of back and forth between tabs.
Usuario verificado
Industrial Engineer II en EE. UU.
Usuario de Linkedin verificado
Ingeniería industrial o mecánica, 1.001-5.000 empleados
Ha utilizado el software durante: Más de un año
Alternativas consideradas:
Does less than we hoped
Puntos a favor:
Easily drop in Solidworks models and get a true sense of the layout vs. 2D AutoCAD. We purchased VR goggles so the user can be "dropped into" the cell to feel it out. We attended a training and it really helped us get up and going.
Contras:
Animating the cell takes more time invested than the reward reaped from seeing it animated. The data we need is better gathered from a 2D simulation vs. a 3D so that it is more accurate/exact. Also the female operator wears heels, has an inch of midriff showing, and a large chest - it is weird.
Kashif
Researcher (including teaching) en Estonia
Investigación, 51-200 empleados
Ha utilizado el software durante: Más de dos años
Hopeful learner
Comentarios: Excellent for the study and learning of virtual factory concept and 3D simulation of production lines. It's a virtual learning factory tool to enhance the knowledge of production systems and their analysis.
Puntos a favor:
It's easy to use as the connection and simulation features are plug and play, quite many tutorial available for learning purpose.
Contras:
Integration with some production planning and control software such as ERP software.
Miha
Researcher en Eslovenia
Administración educativa, 201-500 empleados
Ha utilizado el software durante: Más de dos años
Alternativas consideradas:
Education and industry use
Puntos a favor:
The software has the best 3D user interface and exellent tools for programing of production logic.
Contras:
Since it is 3D can run slow in you progra it to calculate different what-if scenarios.