¿Qué es InEvent?
All-in-one virtual event platform, InEvent powers experiences that transform attendees into customers, driving sales, profits, efficiency and cost benefits for virtual and hybrid events. Our end to end management software is designed to transform corporate events, trade shows, exhibitions, meetings and training sessions all in one dashboard. InEvent has catered for over 400 companies in 138 countries, including leading corporations such as Unilever, Santander Bank, Coca Cola and Facebook.
¿Quién usa InEvent?
Event Planners, Customer Experience, HR, Experience Centers, Marketing, Financial Services, Pharmaceuticals, Associations, Insurance, Automotive, Technology, Event Agencies.
¿Dónde se puede implementar InEvent?
Cloud, SaaS, Web, Android (móvil), iPhone (móvil), iPad (móvil)
Sobre el proveedor
InEvent
Ubicado en Wilmington, EE. UU.
Fundada en 2014
Asistencia telefónica
Asistencia 24/7
Chat
Países disponibles
Estados Unidos
Sobre el proveedor
InEvent
Ubicado en Wilmington, EE. UU.
Fundada en 2014
Asistencia telefónica
Asistencia 24/7
Chat
Países disponibles
Estados Unidos
Imágenes y vídeos de InEvent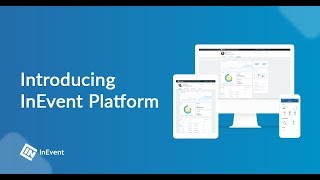 Comparar el precio de InEvent con productos similares
Funciones de InEvent
Acceso móvil
Actualizaciones en tiempo real
Alertas y notificaciones
Análisis de audiencias
Automatización de marketing
Chat en tiempo real
Chat en vivo
Check-in móvil
Compra de entradas
Controles o permisos de acceso
Creación de informes/análisis
Creación de marca personalizable
Difusión en tiempo real
Generación de clientes potenciales
Gestión de calendario
Gestión de calendarios
Gestión de contactos
Gestión de datos del cliente
Gestión de encuestas y sondeos
Gestión de eventos
Gestión de exposiciones y de proveedores
Gestión de inscripción
Gestión de participantes
Gestión de patrocinadores
Gestión de promociones
Gestión de páginas web
Gestión de tarjetas de identificación
Grabación
Inscripción de eventos
Inscripción de grupos
Inscripción en línea
Inscripción in situ
Integración de redes sociales
Lectura de código de barras/tickets
Marketing por correo electrónico
Mensajería individualizada
Networking
Participación de audiencias
Perfil de los participantes
Perfiles de los ponentes
Presupuestos/previsiones
Procesamiento de pagos
Producción de streaming en directo
Programación de eventos
Promoción social
Punto de venta (POS)
Recepción virtual
Reserva de entradas
Seguimiento de asistentes
Seguimiento del comportamiento
Software de streaming
Venta de entradas a través de un terminal
Videoconferencia
Fernando
Co Founder en EE. UU.
Usuario de Linkedin verificado
Tecnología y servicios de la información, 11-50 empleados
Ha utilizado el software durante: 1-5 meses
Features, Features, Features
Comentarios: The onboarding team was greta. every question was answered, During the trial phase the Customer Success team helped creating a basic app. Pricing was easy to also, even for a white label solution.
Puntos a favor:
The easy of use. Friendly admin interface. And fatures, Its packed with fatures to any kind of event we could think.
Contras:
It's so many fatures that we had to go through training, which made us to have a dedicated person to managed the more under the hood features.
Alhassan
Research Coordinator en Ghana
Gestión de organizaciones sin ánimo de lucro, 11-50 empleados
Ha utilizado el software durante: 6-12 meses
Alternativas consideradas:
comprehensive marketing, booking and event management features boxed into one awesome package
Comentarios: Overall, InEvent has been of tremendous help to us. Our results-sharing events have been the lifeline of our fundraising campaigns; allowing us to interact with our partners and donors over progress and milestones achieved while setting the tone for future plans. Thanks to InEvent, we have been able to successfully transition these engagements to a virtual platform that is able to facilitate effective networking and rich participation to keep our relationships very much alive.
Puntos a favor:
marketing campaigns for upcoming events are extremely easy to set up and always manages to deliver on campaign targets and objectives. Response rates to our blasts are always very high, with most respondents citing the engaging nature of the templates used as one of the main reasons why they confirmed. I also love that InEvent offers smooth integration across multiple platforms, and does not end up unnecessarily disrupting our workflows during campaign and event preparations.
Contras:
There should be options for the less technically skilled professionals to also fully deploy with InEvent. The introduction of more visual development tools and drag and drop builder elements or will definitely make it easier to delegate campaign tasks to other team members and reduce the time I have to commit myself.
Respuesta de InEvent
el año pasado
Thanks for sharing your review with us, Alhassan! Your feedback definitely helps us know we are doing a good job and inspire us to improve each day. Our Customers' experience and satisfaction are our top priority; your comments have been discussed at length internally to make the necessary improvements. Thank you! Maria E. InEvent Team
Jacqueline
Manager en EE. UU.
Servicios financieros, 201-500 empleados
Ha utilizado el software durante: 6-12 meses
BEWARE: Bait & Switch Sales Tactic
Comentarios: I DO NOT RECOMMEND THIS PRODUCT TO ANYONE. Watch out for their sales team who promises one product and delivers something g different. Horrid experience that I would not wish on anyone.
Puntos a favor:
We could not use it effectively due to several issues throughout the process. I do not recommend.
Contras:
I have never been so frustrated, disappointed, and upset by any company. We demoed this product and asked several questions to ensure that this product would meet our minimum requirements. We were promised a certain experience by the sales team but when it came to time to speak to the customer service team, we were told that we would need to pay more for what we wanted. Total bait & switch tactic. When we communicated that we were told our pricing included the items we needed, our customer service rep refused to support us unless we paid more. We complained but were completely left out of the solution. Our team did our best to use their workarounds but none of them worked. I've never been treated so poorly with such little effort to improve the experience.
Respuesta de InEvent
el año pasado
Hi there, We got your feedback. Please be aware that your situation was an exception. As you can see on other reviews, we're known for our exceptional and 24/7 customer service, and we'll use your feedback to ensure this doesn't happen again. We set high standards, and our team is constantly working to offer the best solutions in terms of Technology and Customer Service. Please feel free to reach out to us with any further comments or suggestions.
Gisela
Project Manager en España
Organización de eventos, 11-50 empleados
Ha utilizado el software durante: 1-5 meses
Alternativas consideradas:
Greatest tool - 100% flexible
Comentarios: It' been great to be able to adapt demo interfaces to offer a tailor-made solution to potential customers. Besides, the ease of use of the back-end helps arrange quickly all sections and buttons.
Puntos a favor:
The possibility to adapt features, personalize and include external links to broaden the information on any section or subject. The user-friendly interface and the intuitive back-end.
Contras:
The learning curve behind a successful journey. Need to invest quite a bit of time.
Usuario verificado
Digital Community Manager en Polonia
Usuario de Linkedin verificado
Organización de eventos, 11-50 empleados
Ha utilizado el software durante: 1-5 meses
Adjustable event platform
Puntos a favor:
Many options of customization to adjust the platform to your own business needs.
Contras:
As the customization options are pretty advanced, InEvent may not be as easy to use as other platforms.