FieldPulse
¿Qué es FieldPulse?
FieldPulse es una manera totalmente nueva para que los propietarios y gerentes de negocios de servicios externos dirijan fácilmente sus operaciones. Con un enfoque en la facilidad de uso para todo el
Leer más
equipo, tanto en el campo como en la oficina, FieldPulse garantiza que estés en control de un negocio profesional, presto, preparado y rentable. Controla la programación de trabajos, mantente en contacto con tus equipos y clientes y garantiza la calidad de la experiencia de boca a boca que tus clientes esperan. Es una solución todo en uno.
Mostrar menos
¿Quién usa FieldPulse?
Empresas de servicios móviles y de campo, contratistas independientes y subcontratistas que gestionan clientes, programan trabajos para empleados y elaboran presupuestos/facturas para los clientes.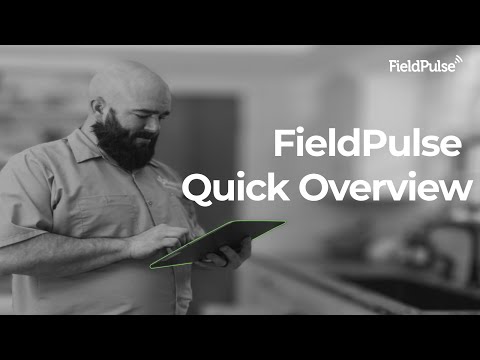 ¿No estás seguro sobre FieldPulse? Compara con una alternativa popular
Versión gratuita
Prueba gratuita
Versión gratuita
Prueba gratuita
No se han encontrado integraciones
¿Por qué estoy viendo esto?
Alternativas a FieldPulse
Construcción, 2-10 empleados
Ha utilizado el software durante: 1-5 meses
Alternativas consideradas:
Great features at a great price
Comentarios: My intended purpose for Field Pulse is to be able to manage 90% of my business from the field. I take calls, create clients, create estimates, complete work, invoice, and take payment all from my phone or tablet from the field. I want to minimize how much time spent on data entry on my computer in the office. With Field Pulse, I will primarily only need to work on complex estimates, back-up of data, and accounting audits from my computer at home. That will cut my workload down significantly. With the new Pricebook feature I may not even need to use my workstation pc to work on complex estimates. Time will tell on that one.
Puntos a favor:
I love the amount of features you get for the price. I am coming from Jobber which I use as the gold standard for small to medium sized field service business software. Compared to Jobber I feel that Field Pulse offers a very comparable set of features at half the price of Jobber. While improvement and new features are always welcome, I feel that Field Pulse is on par or better that their competition.
Contras:
The work flow is quite a bit different from what I would like. The best example is only having the ability to set one visit for each job. While the obvious workaround is to update the date each time a new date is needed or create multiple jobs under the project tabs, but, honestly, the easier solution is to have the ability to attach multiple visits to a single Job. That I believe is a more natural workflow for most users in my industry. In fact, Field Pulse, is the only field service management software that doesn't allow for this. All the big names like Jobber, Housecall Pro, Workiz, all use this workflow model with great success. I would also like the ability to view my client database alphabetically by last name. The current model is the alphabetize it by first name which is very backwards from any other CRM type solution on the market. I am not on a first name basis with many of my clients and when searching for them in my master list, I have to hunt for the last name.
Respuesta de FieldPulse
el año pasado
Hi Adam! Thank you so much for taking the time out of your day to leave us such incredible feedback! We are currently building out the ability to track multiple visits for a single job! I've also added the ability to filter customers by first name to our development wish list. We will follow up with you as soon as both of those become available! Thanks again!
Construcción, 2-10 empleados
Ha utilizado el software durante: 6-12 meses
Stoney Oaks Group Fieldpulse Review
Comentarios: Fair - Most support personnel were knowledgeable and helpful.
Puntos a favor:
It had several features. Integrated billing, schedule, customer database, etc. All the basic core features one could expect from a SAS model service software.
Contras:
All of the below are of my and my teams opinion. With over 30 years in construction and engineering we feel like some additional tweaking would make huge improvements in the usability of this product. The human interface and workflow was lacking, tremendously. The needed features are available, but the workflow to use the features are not intuitive, therefore confusing. The grouping of menu items are not logical and the use of projects and jobs are convoluted. The use of jobs is more like task's, as you can have multiple task (jobs) on one project. Currently the dashboard list on the left are: Customers Schedule Schedule Projects Jobs Subtask Sales Management Company Settings Looking at this from managing sales and managing projects point of view, a more logical list is as follows: Customers (should be filtered for current user, with a toggle for all, with permissions) Customer Details (add Create Project button and remove the Create Job button) (add Open Project button, with a list of projects for that customer. this takes you to the Project Management features below) Sales (all of the below should be filtered for current user, with a toggle for all, with permissions) Customers (goes to the customers page, filtered to only the current users customers) Estimates (Estimates get converted to projects "not jobs") Project Management (all of the below should be filtered for current user, with a toggle for all, with permissions)
Jason
Owner/Contractor en EE. UU.
Construcción, 2-10 empleados
Ha utilizado el software durante: 1-5 meses
Alternativas consideradas:
FieldPulse - The all around software solution for contractors and service providers!!!
Comentarios: Overall, I think FieldPulse is one of the biggest contenders out there. Even up against Co-Construct and BuilderTrend which are priced way out of the hands of single person or small businesses to be able to incorporate and try and they don't even trial their software. FieldPulse has pretty much the features to be able to run a successful contracting or field service company.
Puntos a favor:
What I liked most about FieldPulse are the features that it has for the price of using the software. It is very reasonably priced for big companies all the way down to the single person business.
Contras:
Wish they had estimating options as well as item/service database features, but after talking to a rep, it looks that they are continually working on it and puts my expectancy on these features at ease knowing that they are improving all the time.
Respuesta de FieldPulse
hace 3 años
Jason, thanks so much for the review. It's hard working entrepreneurs like you that keep us motivated to build a great contractor platform. We are always improving the platform, and your comment about item/service database is clutch. We will have some tremendous new features to announce in the coming months, so stay tuned. Please always let us know if we can help in anyway. Our customer success team all sits right next to me here in Dallas, Texas and we love hearing from you guys! --Gabriel Pinchev, CEO
Bethany
Partner en Australia
Servicios para el consumidor, 2-10 empleados
Ha utilizado el software durante: Más de un año
Alternativas consideradas:
FieldPulse 5* Review
Comentarios: Our overall experience with FieldPulse has been very positive. We are currently growing as a small business and we hope that this software can aid us in our growth to automate things we do not need to spend time on, allowing us to focus our time & attention on important matters.
Puntos a favor:
This software has been easy and efficient to use. It has so many features that make running our local business much easier. The support you receive from FieldPulse is excellent and they always listen to customer feedback. They are also constantly looking to innovate the product and are consistently adding new features! We have tried many booking software and this suits our service-based business best :)
Contras:
I have always been given the opportunity to suggest new features and they are valued. On numerous occasions, my suggestions have been implemented into the software. The mobile app could be improved but it is a new software so I am sure it will only get better and better. The ability to have 2 way messaging would be beneficial.
Tommy
Owner en EE. UU.
Usuario de Linkedin verificado
Construcción, 2-10 empleados
Ha utilizado el software durante: 6-12 meses
Alternativas consideradas:
Best CRM
Comentarios: We are an electrical service business and Fieldpulse has a been a huge deal in helping us manage our business activities on a daily basis. We are able to track all customers, projects, jobs, money. We are able to create estimates and invoice.
Puntos a favor:
Fieldpulse is a robust CRM that has many useful functions and the team continues to add to it. I have used other CRM's including jobber and none are as good as Fieldpulse. The Fieldpulse team also has great support that listens to you and actually supports you. They also have a feature called engage that integrates VOIP into their software. I believe this is something I have not seen in any other CRM.
Contras:
It can be quicker at loading pages. Would like to see estimate function be stronger such as integrating an estimate program or create one internally that would streamline for anybody to be able to use in the field and not just experienced users. Would like to see Fieldpulse integrate with many other apps like other softwares such as Zapier, Waveapps, Mailchimp.
Respuesta de FieldPulse
hace 3 años
Tommy, thanks so much for your great review. At the end of the day, our goal is to help you make more money and win back time. We're so glad that we can help your electrical business every day. Cheers, Gabe Pinchev, CEO