¿Qué es BroadVoice Cloud PBX?
Broadvoice provides modern communication systems for more meaningful connections.
Communicate, collaborate and grow with Broadvoice's business communications cloud platform, including phone, SMS, video, and chat.
Our suite of products is ideal for small to medium sized businesses that need an efficient and easy-to-use platform to connect with their internal teams or customers.
¿Quién usa BroadVoice Cloud PBX?
Small-Medium-Enterprise Business
¿Dónde se puede implementar BroadVoice Cloud PBX?
Cloud, SaaS, Web, Mac (desktop), Windows (desktop), Android (móvil), iPhone (móvil), iPad (móvil)
Sobre el proveedor
Broadvoice
Ubicado en Northridge, EE. UU.
Fundada en 2005
Asistencia telefónica
Chat
Países disponibles
Estados Unidos
Sobre el proveedor
Broadvoice
Ubicado en Northridge, EE. UU.
Fundada en 2005
Asistencia telefónica
Chat
Países disponibles
Estados Unidos
Imágenes y vídeos de BroadVoice Cloud PBX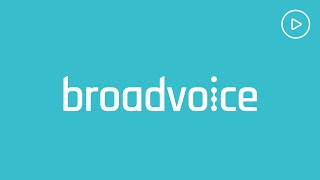 Comparar el precio de BroadVoice Cloud PBX con productos similares
Funciones de BroadVoice Cloud PBX
Acceso móvil
Alertas y notificaciones
Análisis en tiempo real
Archivos de audio y vídeo bidireccionales
Autorizaciones basadas en roles
Chat en vivo
Chat y mensajería
Colaboración entre varios usuarios
Comunicaciones unificadas
Comunicación multicanal
Conexiones SIP
Conexión VoIP
Conferencias
Conferencias de audio y vídeo
Conferencias telefónicas
Creación de informes de llamadas
Creación de informes en tiempo real
Creación de informes y estadísticas
Creación de informes/análisis
Creación de marca personalizable
Desvío de llamadas
Disposición de llamadas
Distribución automática de llamadas
Enrutamiento de llamadas
Extensiones virtuales
Gestión de centros de atención telefónica
Gestión de colas de espera
Gestión de contactos
Gestión de la comunicación
Gestión de listas de llamada
Gestión de reuniones
Grabación a demanda
Grabación de llamadas
Grupos de llamada
Herramientas de colaboración
Identificador de llamadas
Informes personalizables
Integraciones de terceros
Integración de telefonía informática
Mensaje de voz
Mensajería SMS
Panel de actividades
Reconocimiento IVR y de voz
SMS Marketing
Seguimiento de interacciones
Seguimiento de llamadas
Selección de llamadas
Supervisión de llamadas
Supervisión en tiempo real
Transcripción de mensaje de voz
Transmisión de voz online
Uso compartido de archivos
Videoconferencia
Alternativas a BroadVoice Cloud PBX
Opinones de BroadVoice Cloud PBX
King
VP, Corporate Administration & Marketing en EE. UU.
Usuario de Linkedin verificado
Hostelería, 11-50 empleados
Ha utilizado el software durante: 1-5 meses
Alternativas consideradas:
Great Product supported by an even greater team
Puntos a favor:
This software provides the highest quality, with dependable and trusted service. The feature and benefits are easy to use and the value for price paid is phenomenal. We were able to double the number of phones for the same prices as what we were paying another provider.
Contras:
The product was so easy to set up and use and the training provided was great. Can't find anything that I do not like about this software.
Chris
Consultant en EE. UU.
Telecomunicaciones, 51-200 empleados
Ha utilizado el software durante: Más de dos años
Alternativas consideradas:
Broadvoice should be an option you look at!
Comentarios: I love Broadvoice's Cloud PBX from top to bottom. A solid product and very highly recommend it.
Puntos a favor:
Broadvoice Bhive / Cloud PBX is a great, easy to use UC software application. It's easy for the customer and it's easy for the administrator and/or I.T. person to navigate through and use. With all of the major features needed in a UCaaS platform, Broadvoice combines great functionality, and use on cell phones desktop, laptop and ipad.
Contras:
Interface could be designed a little better, more eye appeal, but overall it works great and no issues.
Contabilidad, 11-50 empleados
Ha utilizado el software durante: 1-5 meses
Be very careful, the support is terrible
Comentarios: I am very busy and do not have the hours required to get everything set up. You are really on your own with this company. It took months to get it close to where I wanted it and I mistakenly went ahead and approved the porting of my numbers. I should not have done that, in fact I should have cancelled the entire deal when I realized they were not paying attention.
Puntos a favor:
If it worked as it should it could be very nice, unfortunately it does not. Getting support is a joke!
Contras:
Support and the team that set it up. I made it very easy for them and provided a PowerPoint that was very detailed. It was almost like they never even looked at what I sent them. They do not care bout you after they get your signature on that contract.
Mark
Senior Partner en EE. UU.
Servicios financieros, 2-10 empleados
Ha utilizado el software durante: Más de dos años
Alternativas consideradas:
Great Offering for Cloud PBX
Comentarios: Outstanding customer service and design.
Puntos a favor:
Simple to use, deploy and manage. Has served us well for many years.
Contras:
What I wanted improved seemed to be addressed in B-Hive. We migrated to that offering now.
Jason
Office Manager en EE. UU.
Ha utilizado el software durante: No especificado
Far and away, the best option for phone service
Comentarios: The long and short of it is that we have a small business and were paying over $400/mo for six landlines through a traditional phone company. We tried VOIP (to save around $200/mo), and had a nightmarish experience with another company. We were ready to go back to the landline company and just pay the extra because it wasn't worth it to us to have spotty service where calls to customers and vendors would be dropped. Reliability was more valuable to us than saving money. I heard an advertisement for Broadvoice on the radio and decided to give them a call. I got paired up with Lauren, who was making a lot of promises that I assumed she wouldn't be able to keep--especially after my initial experience with VOIP, and the fact that her prices were about the same as they were with that other company. She assured me that I would be given time to check it out, and that if I didn't like it, I could return it for a full refund. So, we gave it a shot. The reality of the whole situation is that I probably owe Lauren and the other members of the Broadvoice team a huge apology, because not only did she keep her promises, but every single expectation I had was absolutely shattered. We can do things with our phone system that we could never do before. We don't drop calls. Ever. The cost is half of what it was with the traditional system, and in the rare event that I need to talk to someone at Broadvoice about tweaking my configuration & service, I have real phone numbers, where I get to talk to real people. I know their names. They are incredibly helpful, and always very friendly. I cannot recommend this service enough, and I cannot say enough good things about the people that work for Broadvoice. ...and just to be clear, I don't work for them, nor do I get paid to say these things. I feel so strongly about how Broadvoice has helped my office become more efficient (and saved me a ton of money) that I just really enjoy spreading the word about how great this company is. I deal with a lot of people and a lot of vendors that simply never live up to their word. Broadvoice is the exception to the rule.