SimplePractice
¿Qué es SimplePractice?
Haz crecer tu negocio, céntrate en tus clientes y deja que SimplePractice se encargue del resto. En cuestión de minutos puedes recibir información sin papel, comunicarte con los clientes de forma
Leer más
segura, recibir pagos automáticamente, enviar recordatorios de citas gratis e incluso gestionar tu negocio sobre la marcha con su valorada aplicación móvil. Usa el portal del cliente para conectar fuera de las sesiones, factura sin problemas al seguro y realiza sesiones en cualquier lugar con las funciones de telesalud. ¡Pruébalo gratis hoy y descubre por qué miles de clientes han valorado a SimplePractice como la solución número uno!
Mostrar menos
¿Quién usa SimplePractice?
SimplePractice es la solución ideal para proveedores de salud y bienestar y grupos pequeños, incluidos terapeutas, psicólogos, trabajadores sociales, logopedas, nutricionistas y muchos otros.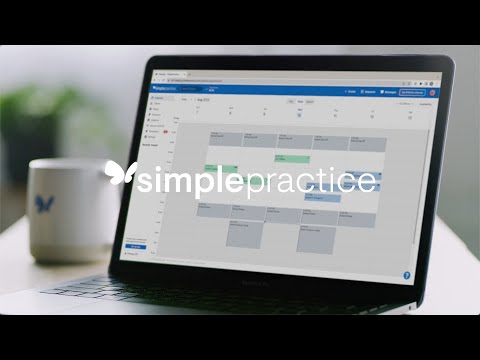 ¿No estás seguro sobre SimplePractice? Compara con una alternativa popular
Versión gratuita
Prueba gratuita
Versión gratuita
Prueba gratuita
No se han encontrado integraciones
¿Por qué estoy viendo esto?
Alternativas a SimplePractice
Opinones de SimplePractice
Kelly Elise
Owner
Usuario de Linkedin verificado
Salud, bienestar y deporte, 2-10 empleados
Ha utilizado el software durante: Más de un año
Avoid SimplePractice
Los subtítulos en español están disponibles en el reproductor de vídeo
Servicios individuales y familiares, 2-10 empleados
Ha utilizado el software durante: Más de dos años
Alternativas consideradas:
The best option in town
Comentarios: I love it, especially with all of their new improvements.
Puntos a favor:
They have a very easy to use format. They have all of the features needed for an individual private practice. And they have been enhancing their features to complement smaller group practices.
Contras:
Customer service is in another part of the country, so the time zone is off by a few hours. Also, there is no human contact to consult with. Everything must be done electronically until it is escalated to a email chat then virtual call.
Software informático, 11-50 empleados
Ha utilizado el software durante: Más de dos años
Excellent Patient Records Management
Comentarios: Great platform , simple and unique patient records management
Puntos a favor:
Appointment management,Patient record management
Contras:
User security and fetch and updating of patients records.
Salud, bienestar y deporte, Trabajador autónomo
Ha utilizado el software durante: Más de dos años
Fuente: SoftwareAdvice
Expensive but (almost) worth it
Comentarios: SimplePractice is very good software for mental health. However, all the options and features lead to complexity. This isn't necessarily bad design - it's simply that there are so many things the software does that there is a lot to learn. Even if you're good with software, implementing the whole package in the condensed time frame required for starting up means that there are times when you'd love to talk with a support rep. It's not that it isn't physically possible to speak to a live person about using the software. It's that by the time you actually hear from a live person, you've either solved it on your own through hours of your own labor, found a work-around, or decided not to use the feature you needed help with.
Puntos a favor:
Robust and configurable. Every feature I can think of, that a mental health practitioner might need, is part of this product. Every part of your practice is configurable, from intake documents to discharge documents. Credit card processing? Yes. Online scheduling? Check (it even produces code for your website, so you can have people book appointments directly from your website). Revenue summaries? Yes. Client attendance reporting? Yes, that too. This review isn't the place to make a comprehensive list of features - but it is the the place to make the point that the feature list is comprehensive.
Contras:
SimplePractice offers different pricing tiers, so you can use as much of the software as you're willing to pay for. But, IMnsHO, what's the point of choosing the most robust software if you're not going to use the high-end (expensive) option? So, I pay (as of this writing) $99/mo to use the software. You'd think that princely sum would enable the occasional conversation with a support team member. It may, but I haven't been able to see how to do it. Have a look at the SimplePractice website and see if you can find a number to call for support. I could not. To be fair, they have a large number of videos which clearly explain how to use the software. They're very good, especially if you know which video you need to watch. Bottom line is when you're working a bunch of hours, stressed by carrying a full case load, trying to implement this very comprehensive software, you could use a friendly hand on the phone with set-up. At least, I could. Instead, I got (best case) 48 hour turnaround to emailed questions. For $99/mo, I feel like I should be able to call them now and again.
Nichole
Founder, Clincian en EE. UU.
Cuidado de la salud mental, Trabajador autónomo
Ha utilizado el software durante: Más de dos años
Alternativas consideradas:
Love this practice management system and it keeps getting better
Comentarios: Simple Practice is an all one solution for small private practices- it's not only a user friendly electronic health record, but an insurance billing platform, staff tracking if you have independent contractors or employees, secure messaging system, telehealth platform, source for quality continuing ed, weekly inspiration, revenue tracking, and all the tools you need for a easy digital client onboarding process.
Puntos a favor:
As an experienced clinician and small private practice administrator I find this software easy to use and the SP team really does take user feedback seriously and updates and adds features regularly. The roll outs of changes are thoughtful, with good lead times, and always a net improvement in user experience (so far). Reports are detailed enough for me to keep an eye on revenue, independent contractor services, and I can easily update forms and communicate with team members and clients confidentially. Also, online scheduling and the Client portal make client onboarding a breeze without hiring a receptionist.
Contras:
I wish I could run reports based on services provided and/or detail of services provided to clients with specific payors.
Debbie
Speech Language Pathologist en EE. UU.
Práctica médica, 2-10 empleados
Ha utilizado el software durante: Más de un año
Overall
Comentarios: Simplepractice is an all-in-one HIPAA-compliant program that has been life-changing regarding the management of my practice. It has allowed me significantly more time to treat patients and less time with administrative tasks such as generating paper claims and statements. Initially, there was an incredible learning curve when my previous practice management program did not cooperate in assisting with the transfer of a large amount of data. Simplepractice allowed me the extra time needed beyond the 30-day trial period to manually enter the data. I am so thankful to know about Simplepractice.
Puntos a favor:
-Completely HIPAA compliant -I now prepare and submit claims within minutes and know almost immediately of any errors or need for resubmission -Electronic claims submissions result in the quick return of payments -Collections are minimal with the ability to process payments with the internal credit card company -Charting progress notes is standardized and easy with a "load previous note" function -The compatibility with my phone and tablet is wonderful, especially with the dictation to text function -I can develop my own forms specific to the needs of my specialty -Patients easily access the friendly portal and quickly complete and return office forms -Support through chat, email, shared audio/visual screen, and now phone is timely with knowledgeable and friendly representatives
Contras:
-The program only allows for one supervisor per intern and is not amenable to a satisfactory work around -All therapist's calendars are visible to all team members -Lacks functional use of invoices as most know them -Cannot send group emails or notify the entire caseload of information to be shared by the practice