¿Qué es Lightspeed Retail?
Lightspeed Retail POS es una solución móvil todo en uno y basada en la nube que optimiza la atención al cliente y la dirección de tu negocio en todas sus ubicaciones. ¡Gestiona inventario, clientes, empleados y ventas desde tu ordenador portátil, iPad o teléfono móvil! Acepta todos los métodos de pago y reduce el tiempo de salida tanto en el local como online. Ahorra tiempo utilizando catálogos de compras integrados. Toma decisiones basadas en datos para hacer crecer tu negocio. Supervisa los costes y el inventario antiguo y automatiza alertas de bajas existencias.
¿Quién usa Lightspeed Retail?
Las funcionalidades de Lightspeed están alineadas con las prioridades de los comercios minoristas y los restauradores. Simplifica las tareas diarias y céntrate en lo importante: el crecimiento del negocio y la experiencia del cliente.
¿Dónde se puede implementar Lightspeed Retail?
Cloud, SaaS, Web, Mac (desktop), Windows (desktop), Linux (desktop), Chromebook (desktop), iPad (móvil)
Sobre el proveedor
Lightspeed
Ubicado en Montreal, Canadá
Fundada en 2012
Asistencia telefónica
Asistencia 24/7
Chat
Países disponibles
Canadá
Idiomas
alemán, francés, inglés, neerlandés
Sobre el proveedor
Lightspeed
Ubicado en Montreal, Canadá
Fundada en 2012
Asistencia telefónica
Asistencia 24/7
Chat
Países disponibles
Canadá
Idiomas
alemán, francés, inglés, neerlandés
Imágenes y vídeos de Lightspeed Retail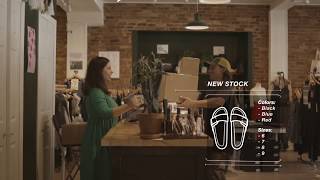 Comparar el precio de Lightspeed Retail con productos similares
Funciones de Lightspeed Retail
API
Acceso móvil
Auditoría de inventario
Base de datos de clientes
Búsqueda/filtro
CRM
Campos personalizables
Carro de compra
Catalogación/Categorización
Contabilidad
Control de inventario
Creación de informes y estadísticas
Creación de informes/análisis
Cuentas de clientes
Códigos de barras/RFID
Facturación
For Bakeries
For Small Businesses
For iPad Devices
Gestión de SEO
Gestión de artículos
Gestión de canales
Gestión de clientes
Gestión de comercio electrónico
Gestión de comercios minoristas
Gestión de contenidos
Gestión de descuentos
Gestión de empleados
Gestión de ingresos
Gestión de inventario de minoristas
Gestión de inventarios
Gestión de pedidos
Gestión de precios
Gestión de productos
Gestión de promociones
Gestión de proveedores
Gestión de páginas web
Gestión de renovaciones de pedidos
Gestión de tarjetas de regalo
Gestión de órdenes de compra
Historial de transacciones
Identificación del producto
Importación y exportación de datos
Informes de ventas
Integraciones de terceros
Integración contable
Lectura de código de barras/tickets
Marketing multicanal
Marketing por correo electrónico
Optimización de inventario
Pagos electrónicos
Panel de actividades
Pantalla táctil
Para comercio detallista
Personalización
Procesamiento de pagos
Procesamiento de tarjetas de crédito
Programa de fidelización
Punto de venta (POS)
Registro de entrada y salida
Seguimiento de costes
Seguimiento de ingresos
Seguimiento de inventario
Seguimiento de números de serie
Seguridad SSL
Varias ubicaciones
Alternativas a Lightspeed Retail
Opinones de Lightspeed Retail
Zondre
General Manager en EE. UU.
Usuario de Linkedin verificado
Comercio minorista, 11-50 empleados
Ha utilizado el software durante: Más de un año
Alternativas consideradas:
Great integrated system
Comentarios: Lightspeed has been great. We have been using it for over a year and it has met my expectations. Whenever I request help, which isn't that often anymore they are quick to respond.
Puntos a favor:
The best feature of LIghtspeed is the analytics package. As a senior manager you can spend a lot of time calculating your performance manually in excel. But the Analytics package takes care of all of that. It's easy to see the performance of your inventory, employees and marketing at any time. There are also a lot of apps that work with Lightspeed that make it the most functional POS system I've used. The fact that the ecommerce is integrated as well makes it a great fully integrated system. You could pay a lot more to piece together all the of the systems you need. Or you could spend a huge amount of money creating a custom system.
Contras:
There are some small idiosyncrasies like not adjusting sync times for your local time zone. So, yesterday is never accurate you have to wait for the next days sync to get have accurate information. I would also like to be able to have our time management app sync employee time to Lightspeed so we don't have to enter it manually. I've given up on tracking employee hourly performance for this reason. Or if they offered a better time clock management natively that would help. I'd also like them to include the previous year comparisons in their dashboard. And, I'd like to look at seasonal performance rather than just month to month and week to week.
Elizabeth
General Manager en EE. UU.
Servicios e instalaciones recreativas, 11-50 empleados
Ha utilizado el software durante: 6-12 meses
Alternativas consideradas:
Fantastic product for any retail business. Excellent value.
Comentarios: Overall, I think Lightspeed Retail is an excellent product and very simple for most any retail operation. I highly recommend it to colleagues for their POS/Inventory/eCom solutions.
Puntos a favor:
Creating items and managing retail is very easy through Lightspeed Retail. The reporting features allow you to make great decisions for your business based on accurate data. Anytime I need help with something or am unsure as to how to do something regarding any feature of Lightspeed Retail, support is only a click away through the helpful chat feature. They are almost always immediate to respond and always kind and patient with any question.
Contras:
Understanding how retail communicates with eCom is a little intimidating at first and simply took a minute to wrap my head around how it links together. Discounting could be a little more straight forward too but overall ok.
Lena
CEO en EE. UU.
Usuario de Linkedin verificado
Comercio minorista, 2-10 empleados
Ha utilizado el software durante: Prueba gratis
Fuente: GetApp
The WORST CUSTOMER SERVICE
Comentarios: If your thinking of using Lightspeed, skip the hours of frustration and go straight to Square or Shopify. The customer service is the worst I've ever encountered, and I work in customer service. The sales rep I was assigned was dishonest, unresponsive and incompetent. I literally spent hours trying to make things work. I asked on numerous occasions to be sent to someone else and the company could not seem to do it. I asked to speak to his manager, and was referred back to him. It was the most bizarre and frustrating experience I've had in 13 years as a retailer.
Puntos a favor:
I liked the idea of all the integrations
Contras:
Terrible customer support. There was no way for me to really evaluate the functionality of the software bc of this
Respuesta de Lightspeed
hace 2 meses
Hi Lena, Thank you for your feedback. We are sorry to hear that you were less than satisfied with your recent experience with Lightspeed. It is our utmost priority to provide a product and service that allows our customers to focus on running their businesses with ease. Someone will be reaching out to you once more to discuss your request further and next steps. Thank you for your understanding. Thank you, Lightspeed Commerce
Daniel
Jeweler en EE. UU.
Comercio minorista, 2-10 empleados
Ha utilizado el software durante: 6-12 meses
Alternativas consideradas:
Easy Switch to Lightspeed Retail
Comentarios: Overall it has been an easy switch and easy to use software.
Puntos a favor:
The fully integrated credit card payments has been wonderful, not having to use two separate systems to complete the sale has been great. Also the integrated inventory between retail and ecom has been great. Sell it in one place and inventory get adjusted across all platforms. Also the ability to use multiple registers at once and complete payments at the same time has been a life saver.
Contras:
The additional cost for some of the features in the ecom, such as different layouts for the website that would incorporate things such as reviews on other websites. The limited analytical information you have at your disposal without having to pay for lightspeed analytics.
Ropa y moda, 2-10 empleados
Ha utilizado el software durante: 1-5 meses
Fuente: SoftwareAdvice
Alternativas consideradas:
Horrible Customer Service
Comentarios: After making our first sales we were told we would have to wait 2 weeks to get our first deposit.
We understood and gave them time even though that seemed like a very long time to wait for a startup.
Unfortunately we never got out money. We were not informed anything was wrong and only when we realized we should have been paid by then did we call and ask what was wrong. We did the run-around with their support team for more than a week and STILL have not gotten paid. They are very bad at response time and when you sit on the phone you can't talk to anyone except a support member who knows nothing beyond how to help with the software. Good luck getting an email to anyone in the payments office or even have anyone in the office on a random Monday because it's a "holiday"?
We had to threaten twice that we would be moving companies before we got any sort of reassurance we would be helped within the next day. We have had to close our shop for a week now losing sales and making our potential investors skeptical of our business because of Lightspeed's mess up.
Puntos a favor:
The System was very use friendly and I am sad to say I will have to go with another company because the customer service was so poor.
Contras:
Customer service is worse than anything we have experienced with more than 20 years in running a business.
Respuesta de Lightspeed
hace 2 meses
Hi Miguel, Thank you for your feedback. We are sorry to hear that you were less than satisfied with your recent experience with Lightspeed. It is our utmost priority to provide products and services that allow our customers to focus on running their businesses with ease. Someone will be reaching out to you once more to discuss your request further and any next steps. Thank you, Lightspeed Commerce